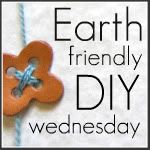 Lori from
Waterstone Jewelry
is hosting an Earth Friendly DIY Wednesday...which is perfect timing since tomorrow (Thursday, April 22nd) is Earth Day! My "Do It Yourself" Earth Friendly project is a
tutorial
showing how to create one of my hand-painted upcycled/repurposed decoupage canisters. The canister that is in this tutorial is currently for sale in my Etsy shop and it is titled,
"Lullaby of Angel's Enlightenment"
...please check it out as well as my
fun and fascinating tutorial
!
http://www.etsy.com/listing/40082245/lullaby-of-angels-enlightenment---hand-p
My Earth Friendly DIY Wednesday tutorial is one that I created in February for the Supplies for Tutorials Exchange...ENJOY!

http://ecofriendlyfreckles.blogspot.com/2010/02/eco-friendly-freckles-tutorial-supplies.html